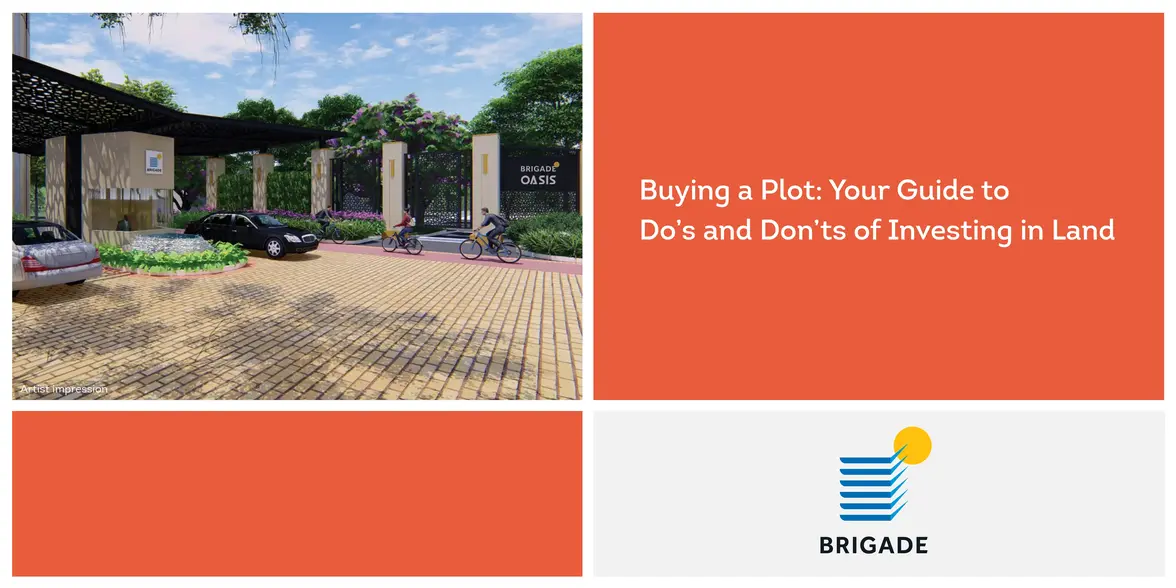 Buying a Plot: Your Guide to Do's and Don'ts of Investing in Land
Land value has increased by 800% in the last 20 years and continues to remain a popular form of investment. Purchasing plots is a lucrative option within the investment portfolio of the average Indian investor. Typically, land price appreciation continues despite turbulent economic conditions. You can capitalise on the property to generate passive income.
Tap into the right knowledge resources and evaluate the factors that promote your plot price surge to strike the best investment deal. It may look as simple as paying the amount and signing the sale deed until you get down to brass tacks. Careful deliberations must go into it before making the final payment, failing which the plot may become a liability rather than an asset.
This blog highlights the do's and don'ts you must adhere to for safe and hassle-free property investment.
Do's Before Investing in Plots
Here are the things to consider before making a land investment:
Location is the key
Often, people take the hasty decision to buy a property based on its dimensions and topography. Leaving the location out of the equation may depreciate the property value.
Plots in desirable locations tend to experience higher appreciation rates due to proximity to facilities, social infrastructure and overall neighbourhood development.
Proximity to employment hubs and the available modes of transportation are critical factors that make your life convenient and contribute to the high resale value of your plot.
Brigade Oasis, is a premium residential plots project in Devanahalli that meets the above-mentioned criteria. It has quickly emerged as a highly coveted property among home buyers and real estate enthusiasts.
Invest with a Reputed Real Estate Developer
It is a dire necessity for buyers to know if their prospective builder has the legal right to sell land, whether it is liable to pay the loan they took while buying the property or if the local authority earmarks the site for any public projects. That's a lot of questions to find answers for. Any incomplete or incorrect information can result in you getting pulled into prolonged legal tussles.
A straightforward solution to this issue is partnering with a reputed real estate builder like Brigade Group.
Established builders have a proven track record, strong business ethics and a reputation to uphold. They thoroughly vet the properties they offer, furnishing all necessary approvals, permits and clearances. It ensures your peace of mind and secured land ownership.
Prominent builders help you in identifying prime locations, assess the land quality and evaluate the legal and regulatory aspects of the transaction so you get to make well-informed decisions and mitigate potential risks.
Research about the Land Values
There is no crystal ball to predict the potential value of your property. However, getting an insight into the value appreciation prospects is not hard if you know where to look.
Find out about the prices of plots in the surrounding neighbourhood. It will help gauge the appreciation potential of the land you plan to buy.
Don'ts Before Investing in Plots
Here are some factors you must consider while purchasing land.
Missing Out on the Research
There are multiple factors beyond the landscape and aesthetics that promote the livability as well as the marketability of your plot. Only an in-depth groundwork will help you get essential details, such as land value, legal liabilities and the prospects of infrastructural development in and around your plot. These are the key metrics that promote the price appreciation of your property.
Scan through the reviews posted by residents of the area, and interact with owners of properties at the exact location to determine the viability of your land investment.
Not Checking on FSI
FSI stands for Floor Space Index, which implies the quality and quantity of construction that can be done on the plot you plan to buy.
The metric tends to vary across locations, plot size and others and is subject to the mandates of the local authority. Failing to check the FSI of a particular plot will result in you creating a construction plan that does not align with the FSI specifications of that particular area. The result is legal resistance from the local regulatory bodies and a downward spiralling property value.
Not Doing Background Check of the Developer
Failing to conduct proper research on your real estate developer puts your plot investment credibility, reliability and quality at stake. For instance, reputed builders make it a point to provide you with a proper NA (non-agricultural) residential order. It is a document validating that the piece of land you are buying has been changed from its default agricultural status to NA.
Shady builders may try to pass a non-NA property as an NA plot under a deceptive proposed NA scheme without furnishing any tangible documents. The allure of buying land at low prices may prompt buyers to readily invest without verifying the validity of the scheme or its advertiser.
Conclusion
Investing in a plot of land can be rewarding when approached with careful consideration and strategic planning. By adhering to the dos and don'ts outlined in this blog post, you can increase your chances of making a fruitful investment.
Discover the exceptional offerings from Brigade Group, including Brigade Calista, for a vibrant downtown living experience and excellent connectivity, and Brigade Valencia, offering a relaxed yet spontaneous living experience.