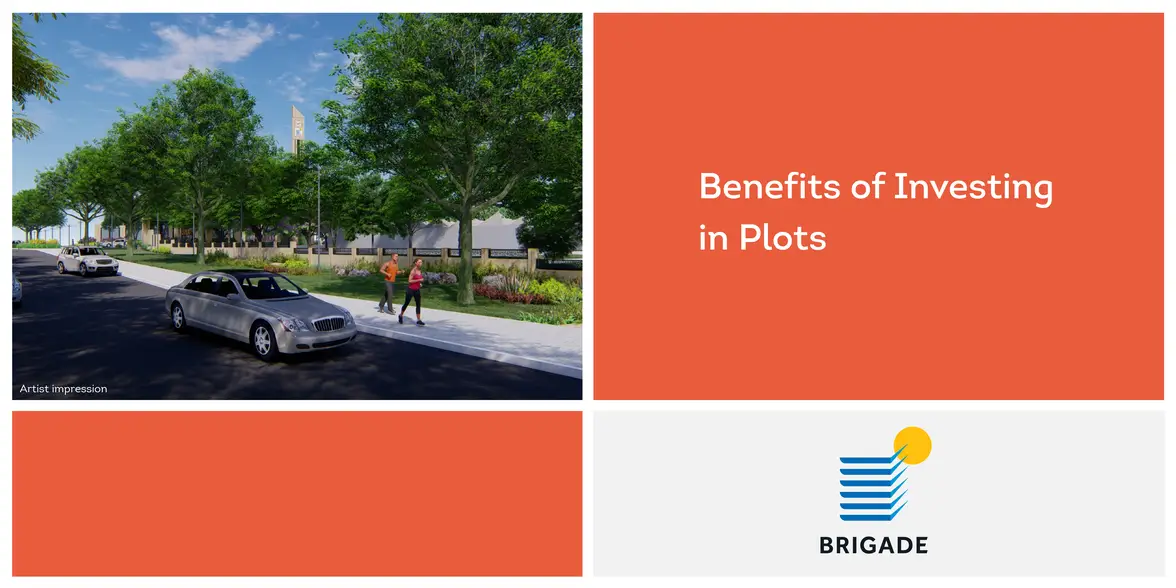 Benefits of Investing in Plots
Lands are becoming scarce in cosmopolitan cities like Bengaluru, where the influx of people is leading to residential and commercial complexes sprouting almost daily. The situation is resulting in demand overshooting supply, increasing the price of plots. An Outlook India publication confirms the price uptick in residential plotted developments in Tier 1 cities like Hyderabad and Bengaluru.
The time is ripe to invest in plots as the real estate trends indicate a steady rise in land value. Whether you are a first-time buyer or a seasoned investor, adding a plotted development in Bengaluru or other metro cities to your investment portfolio can be rewarding in many ways.In this blog, we will highlight the top benefits of raw land investment.
Greater Flexibility
Unlike investing in a completed residential project, buying land lets you have the liberty to decide on the architecture, layout and everything that gives shape to your dream home.
Plotted developments in Bengaluru, such as Brigade Oasis Devanahalli, are worth mentioning. The project features parcels of land of various sizes suiting the requirements and budgets of buyers.
Depending on its zoning and regulations, you can develop the plots for residential, commercial or other purposes. For instance, based on the recent rental price hike in Bengaluru as reported by the Knight Frank India Real Estate (H2 2022) report, you can lease out the land or the house you have built on it to earn a lump sum passive income.
High Return on Investment
Land is a tangible asset with a characteristic high appreciation value, thanks to the infrastructural growth of the neighbourhood. Plots in Devanahalli, Bengaluru, is a striking example of land witnessing massive value growth because of the burgeoning infrastructural development. Builders tend to cash in on the development and construct premium residential projects that boost the ROI prospects of the adjoining area.
Purchasing raw land generally entails a minimum upfront investment compared to buying a furnished apartment in a gated community. It ensures high returns in exchange for minimal initial investment.
Quick Appreciation
Infrastructure development improves the accessibility and convenience of commuting to and from a locality, which is directly responsible for a rapidly growing property value.
A well-connected area becomes a hotspot for residential houses as well as commercial activities, making its real estate worth grow at a fast pace.
The surge in plot value appreciation is also linked to speculative investment. Investors purchase land expecting its value to rise significantly, often due to planned developments or upcoming projects nearby. The speculative demand can create upward pressure on plot prices, leading to substantial appreciation in a short span.
Low Property Tax
Property Tax is a financial obligation that owners must consider, irrespective of whether they possess a residential apartment or land.
For landowners, the tax is considerably lower compared to homeowners. Consequently, from an investment perspective, opting for a plotted development in North Bangalore allows you to save money during the initial purchase and in the long term as you incur lower tax payments.
Risk Mitigation
Land is an asset that carries less risk than other forms of investment, like cryptocurrencies or stocks, which are subject to market volatility. Even in economic uncertainty, plots retain their value and can act as a financial safety cushion against inflation.
Conclusion
Plots are a lucrative real estate investment option in particularly metro cities like Bengaluru where demand is more than supply, raising the price appreciation potential. The lower initial investment, flexibility among other factors make a strong case for investing in vacant land. It serves the dual purpose of a financial safety net to fall back in the future and passive income as rents in the present. However, as for any investment, it is essential to conduct thorough research, understand local regulations and consider the potential risks before purchasing plots.
Discover the exceptional offerings from Brigade Group, including Brigade Calista, for a vibrant downtown living experience and excellent connectivity, and Brigade Valencia, offering a relaxed yet spontaneous living experience.