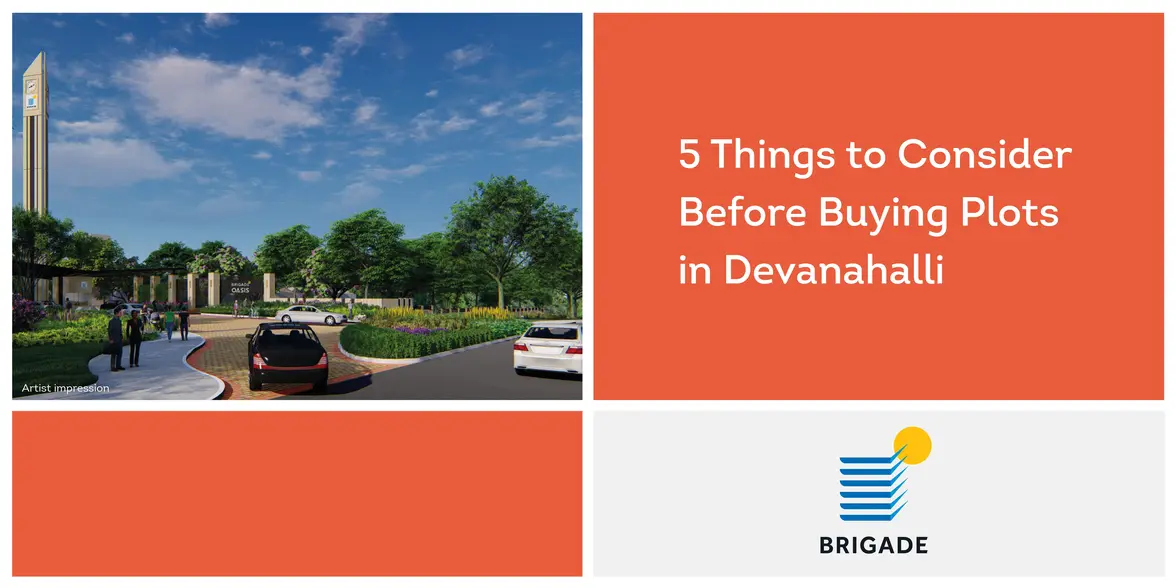 5 Things to Consider Before Buying Plots in Devanahalli
Owning a plot to build the house is a significant milestone and a huge decision to make. Many deliberations go into choosing the right location that must have good connectivity but also has high price appreciation.
Devanahali, a growing suburb in North Bengaluru, ticks all the boxes to be regarded as a highly coveted residential area. The skyrocketing real estate value has led to multiple apartment enclaves and plotted developments sprouting in the area.
For any aspiring home buyer, it is easy to get confused by many choices and the attractive offers made by the builders. Don't let any of these cloud your decision. If buying plots in Devanahalli is on your mind, you must consider the five factors highlighted below.
1. Plot Size
The blueprint of your house may be altered, but you can never alter a plot size. The dimensions directly impact the space available for living and future expansion.
Before committing to an investment, visit the site to check if the plot size aligns with your planned building architecture. It is best to go for residential projects that feature plots of various sizes and shapes. Brigade Oasis in Devanahalli is one example of ideal plotted development that has many plot size options that suit your budget and needs.
2. Value
For many, a property is a tangible asset that can be cashed in to support any financial emergency in the future. Potential home buyers must conduct thorough research and understand the factors that may multiply the plot value in the future.
The research process begins with a comprehensive financial analysis to project the potential ROI your plot can yield. You must factor in aspects like the purchase price, ongoing maintenance expenses, location among others that impact your land's resale value. Calculate the cash flow prospects and return on investment based on realistic assumptions. In addition, it is essential to account for price appreciation in both the long and short-term when evaluating the financial viability of your plot.
Proximity to the international airport has led to massive development in Devanahalli, incentivised by the Government of India (GOI). SEZ projects have opened the doors for many organisations to set up their shops in the thriving neighbourhood of North Bengaluru. A subsequent boost in employment opportunities is drawing buyers to this area, fueling the real estate value of the land parcels.
3. Legal Clearance
Investing in a plot without legal clearance makes you vulnerable to the risks of litigation and property disputes. There is ample evidence of hapless buyers embroiled in legal battles to prove the authenticity of their property ownership.
Before purchasing land, you must get approval from local authorities such as the BBMP (Bruhat Bengaluru Mahanagara Palike) and the City Development Corporation (CDC), which are the primary governing bodies in Bengaluru.
It is imperative to acquire the requisite documents pertaining to the land you are planning to buy and get a lawyer to verify that it is free from legal disputes.
Additionally, buyers must ensure that the building permit and sanction have been duly obtained from the CDC.
4. Social Facilities
The ease of access to social infrastructure, such as schools, hospitals, parks and recreational centres is an important factor that you must consider to make a plot investment fruitful. Ensure that all the facilities are located within a close radius of your property.
These high-value units of convenience significantly impact the potential return on investment for gated community plots in Devanahalli. Proximity to well-established schools, hospitals and recreational facilities tends to drive up demand and property prices.
5. Real Estate Developer Information
A thorough builder evaluation holds the key to a satisfactory property purchase experience.
Researching prospective developers' previous projects, their quality of construction, adherence to timelines and customer feedback provide valuable insights.
Buyers get an understanding of the builder's history of delivering projects successfully and meeting customer expectations. A reputable builder with a proven track record inspires confidence and increases the likelihood of smooth sailing throughout the plot purchase and construction process.
Conclusion
Buying plots in Devanahalli can be rewarding if you consider the essential factors mentioned above. Careful assessment of the plot sqft, proximity to social infrastructure, builder's reputation and growth potential and doing legal due diligence will help you in making an informed decision. Take your time, do extensive research and consult with real estate professionals to ensure that your investment aligns with your long-term goals.